Kerrville Book Festival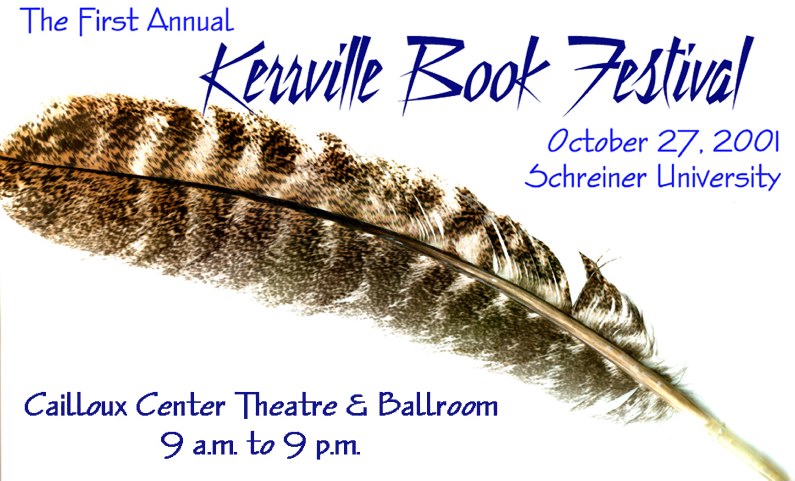 Past is Prologue Workshop
Sponsored by Schreiner University and The Meredith Fund
Thanks to Facilitators:
Dr. Kathleen Hudson and Donna Snow Robinson and all participants
Readings by Youth Poets
Sponsored by the Locker Room Writers & Thinkers Workshop
Reno Wilson from Tivy High School, Amanda Rivera
from Ingram Tom Moore High School, and Matthew Jackson, Sean Tokaz,
Angela Espinosa and Dorothy Casey from Notre Dame School
Thanks to all authors: Lana Book, David Breeden, Kathleen Hudson, Rod Kennedy, Claudia Sullivan,
Eugene Wait, John Wootters, Vicki Audette, Bob Couch, Danny Edwards, Isabell Lemond, Rod Marburger,
Lianne Mercer, John Mullins, Susan Sander, and Ken Wilson
And to: Jami Carroll-Hinton and Erik Breden
And to: Sandy and Jon Wolfmueller
Sponsored by Wolfmueller's Books and Records
For reading from their works
Thanks to: Dr. Claudia Sullivan, Eugene Wait,
John Wootters, Lana Book, Dr. David Breeden,
Rod Kennedy and Dr. Kathleen Hudson
And to all our introducers: Joe Herring, Jr., Lianne Mercer, Sandy and Jon Wolfmueller,
Justin Colussy-Estes, Rod Marburger, David Breeden and Kathleen Hudson
This event would not have happened without the unquestioning support and help of
Sandy and Jon Wolfmueller and David Breeden.
The following authors participated in
The 2001 Kerrville Book Festival
Dr. Kathleen Hudson
author of
"Telling Stories, Writing Songs: An Album of Texas Songwriters"
Dr. David Breeden
author of "Another Number", "Stack to the Moon", and
"Artistas"
Lana Book
author of poetry, essays and short stories in
"Coming Full Circle," "Pink Macaroni Flamingo,"
and "Single Women: Alive and Well"
Eugene Wait
author of the history titles
"The March of the Teutons," "America and the War of 1812," "America and the Monroe Years,"
"Jackson Years," and "Opening of the Civil War"
Ken Wilson
author of "Sport Hunting on Six Continents"
publisher of "International Hunter" by Bert Klineburger
and numerous videotapes for his "Sportsmen on Film" series
Dr. Claudia Sullivan
author of "Heartfelt", "The Actor Moves", and "The Actor Alone"
Lianne Mercer
publisher of the "Texas Poetry Calendar" series, writer of works in "Common Bonds: Stories by and about Texas Women"
and "New Texas 2000", and author of "The How-to of Great Public Speaking" and "Stage Techniques that Tame those Butterflies"
Rodney Marburger
author of "The King of Deer" and articles on wildlife in magazines, journals and newspapers
Rod Kennedy
Kerrville Music Festival Founder and author of "Music from the Heart"
Susan Sander
Texas Master Naturalist, Founder of the Riverside Nature Center
and author of "A Treasury of Texas Flora: The botanical watercolors of Marie C. Wesby"
Isabell Paiz Lemond
Families & Literacy, author of "Jesus had a Step-dad too . . . Joseph"
John D Mullins
Historian, author of "An Escort of P-38s"
John Wootters
Outdoorsman, photographer, widely published in outdoors magazines,
author of six books, including "Hunting Trophy Deer,"
said to be theall-time best seller of books on hunting White-tailed Deer,
has over 3.5 million words and 15,000 photos in print
Vicki Audette
Author of "Hal and Charlie: The Texas Peterson Brothers who Risked a Fortune for a Hill Country Foundation" with J. Tom Graham
Danny Edwards
Former County Judge, mystery writer, author of "Double Crossover"
Dr. Bob Couch
Author of "Can Do Thoughts in a 'Can't Do' World"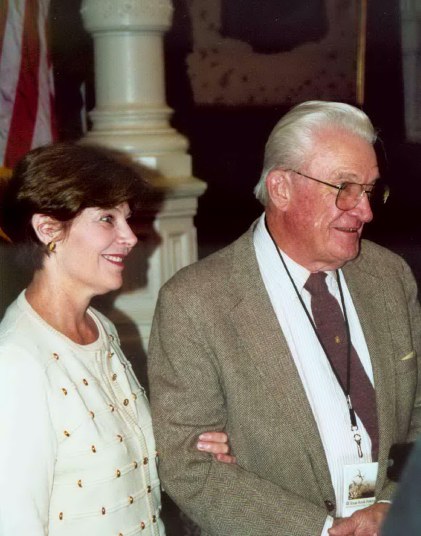 First Lady Laura Bush with John Graves in the Texas House of Representatives,
November 2000. Graves was being honored for lifetime achievement in
Texas letters at the 2000 Texas Book Festival.
Photo by tony gallucci