Life IV -- Soccer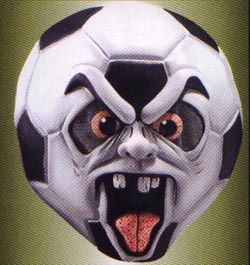 news and links about the perfect game
2004 TEXAS HIGH SCHOOL SOCCER PLAYOFF NEWS:
The Tivy Boys and Girls again made great runs at the playoffs, the girls reaching the Regional Quarterfinals before falling to Lake Travis (eventual final four team), and the boys reaching the Regionals Semis before losing an overtime nailbiter to Brownsville Porter. Congratulations to you guys, Drew Simank, Michael Goodwyn, Luke Smith, Gary Schreckenbach, Matty Bonine, Patrick Hoop, and everyone else!
Smithson Valley -- Brad's boys made it to the Area Championship before dropping an overtime game to Reagan (eventual final four team).
Katy Taylor -- Tom's squad made it to the Regional Semis before falling to Northbrook (eventual final four team).
2003 TEXAS HIGH SCHOOL SOCCER PLAYOFF NEWS:
Both Tivy Boys and Girls teams won District in 2003, the girls for the first time ever, though they've never missed out on the playoffs, and the Boys for the first time since 1997. The boys beat Austin Reagan 3-0 in second round action after a bye, before dropping the third round to archrival Boerne 1-0 in the regional quarterfinals. The girls advanced the same way, a bye, a 1-0 win over Austin McCallum in the second round, and a third round 2-0 loss to Austin Anderson. Congratulations Coaches Sletten, Beggins, Swonke and Miears! And all of you players -- Barton McLaughlin, Erika Kuklewski, Michael Goodwin, Matthew Bonine, Luke Smith, Taylor Braswell, Drew Simank, Corey Tucker, et al.
McAllen Memorial -- Brian Hawkins -- apparently didn't make it out of district this year. Brian heads off to a college career now, kicking for Texas State University.
Port Neches-Groves -- Andy Andrus -- PNG was district runnerup, and then made a run all the way to the Regional Finals. Andy heads for college now too.
Smithson Valley -- Brad Lind -- SV won district again, had a bye, and then lost 4-1 to Churchill in their first playoff game. Churchill went on to win 5A State.
Katy Taylor -- Tom Gay -- Taylor made it all the way to the Regional finals before losing to Kingwood 3-2 in OT.
Bellaire -- Aaron Goetz -- Bellaire finished third in district, and succumbed to Houston Chavez 3-1 in the first round. Aaron heads off to a college career at the University of Virginia.
In addition, C.J. Goodwin, Chris Leifeste & Josh Bonine all are continuing their careers at Schreiner University.
2002 TEXAS HIGH SCHOOL SOCCER PLAYOFF NEWS:
CEDAR PARK blasted Texas City 7-0 and will be in the state championship game Saturday, April 7, against Highland Park (Highland Park won state); while BOERNE beat Richardson Pearce 1-0 and will play in the boys state championship game against Hewitt Midway (Midway won state). Both teams represent our region (IV).
Tivy High School Girls made the second round of the playoffs after a first round 6-1 win over San Antonio Roosevelt. Go Erin Mc and Clarissa and everyone! The Tivy Girls were knocked out in the second round by Austin Anderson 5-2. Great Season girls! District co-team Boerne was in the Regional semifinals against Cedar Park (Go John and Shelly!).
Tivy High School Boys bowed out with a 2-1 loss to Roosevelt in first round action. Great season Josh and Karl and Kurt and Michael and Areli and Alveniz and all you guys! District Co-team Boerne beat Cedar Park at regionals(Go John and Shelly anyway!)
Fort Bend Clements had a first round bye as a result of winning their district. They lost to Houston Lamar 1-0 in the second round. Great Season Josh!
McAllen Memorial lost to Brownsville Pace in first round action 3-1. Great Season Brian!
Port Neches-Groves beat Jasper 5-1 in first round action to advance. Go Chris and Andy! Crosby took the second round game 3-2 in overtime. Great Season guys!
Smithson Valley beat Fox Tech 1-0 in first round action to advance. Go Brad and Colby! They lost to Cedar Park 3-1 in the second round.
Katy Taylor lost in first round action to Fort Bend Elkins 3-1. Great Season Tom!
Bellaire did not make playoffs this year. Great Season though Aaron!

Chad Deering plays for the Dallas Burn,
is a member of the full U.S. National Team,
and played in the German Bundesliga.
Here's some places to check him out.
Fans select team's all-time Best XI
Chad Deering (1998-2003) - Played for the Burn from 1998-2003 and appeared in 147 career matches. He currently ranks sixth among all-time Burn players in games played (147), third in assists (30) and seventh in points (56).
SPORT ZEBRA SOCCER CLINICS
Superior clinics for coaches and players
- strategy, tactics, dynamics, style, analysis
Coaching/playing experience, licenses in:
AYSO, USYSA, UIL, TCISL, NASL, NAIA,
NCAA, USSF, USSoccer, Olympic/National Teams
World Scholar-Athlete Games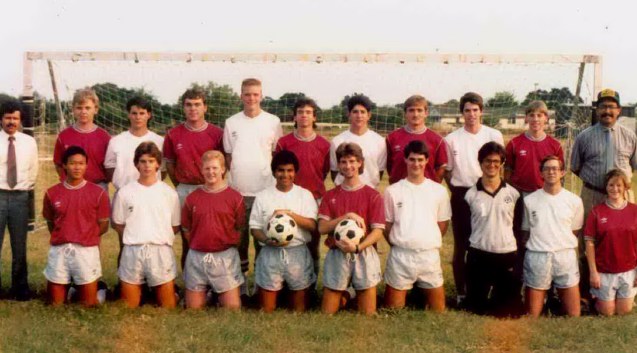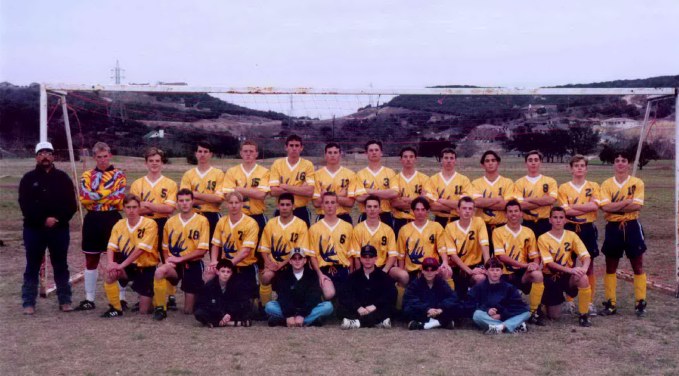 Photo by Mike Keith
Above, the (and my) first Schreiner University Soccer Team. Below is my last Tivy soccer team, undefeated area champs,
which included 1997 TASCO first-team all-state goalkeeper Matt McCutcheon (Midwestern State University),
1998 NSCAA first team all-state midfielder Matt Goodwyn (Schreiner University),
and 1998 NSCAA first-team all-state defender Josh Walther (Texas A&M University).
The team was named the 1997 NSCAA High School Academic All-America Team.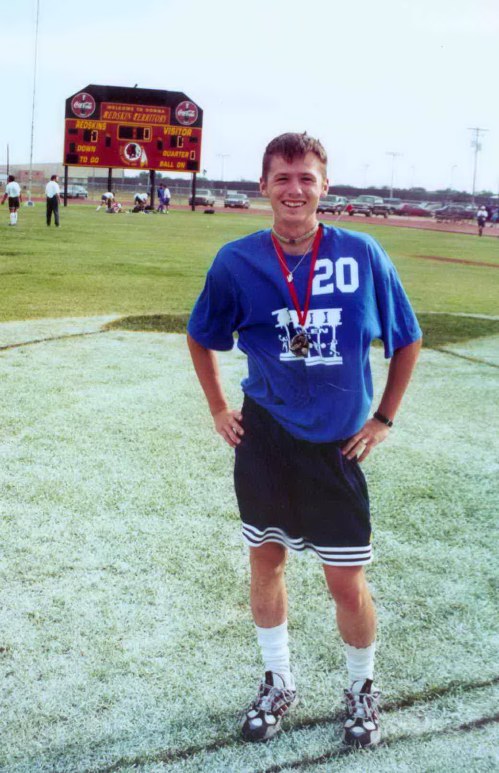 Matt Goodwyn, Tivy High School and Schreiner University star, pictured here at the 1998 TASCO All-Star Game
in Donna, Texas. Matt was named First Team NSCAA All-State at midfielder. He is now married and coaching
his own club in Kerrville.
Photo by tony gallucci
Former Tivy High School player Kristi Foster was RUNNERUP in the All-American Girl Competition!